On August 16, 2010, in Syndicated, by Association for Software Testing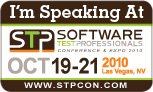 I will be speaking at another conference. This time in Las Vegas at the Software Test Professionals Conference & Expo! My topic for this conference is entitled "Testing Within the Shades of Agile".  I gave this presentation last year at CAST 2009 and this year at QUEST2010. I'm excited to deliver it again at STP2010 along with some new ideas and material from my new learnings.
Although I've never attended an STP Conference before, this year's line up of presenters and activities looks to be very promising. If you are looking for a conference to attend this year, STPCon would be a great one to pick. You can view the entire conference information at the STP Conference Site. Hope to see you there!
Online Education for Testing Practitioners
Did you pass Foundations? Join us for the next course in our series. Good testing requires application of many test techniques. Each technique is better at exposing some types of problems and weaker for others. Participants will look at a few techniques more closely than the rest but do not become skilled practitioners of any single technique.
Learn more »
Are You a Member?
We believe great software testing requires Craftsmanship, Science, and Passion.
Learn More »
Looking for something?
Use the form below to search the site:
Still not finding what you're looking for? Drop a comment on a post or contact us so we can take care of it!
Visit our friends!
A few highly recommended friends...
Archives
All entries, chronologically...