On October 29, 2010, in Syndicated, by Association for Software Testing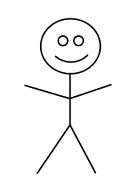 If you haven't checked out Cartoon Tester Andy Glover you are really missing out. Andy creates hilarious cartoon blog posts on his site. A few months back he posted a call for readers of his blog to create their own cartoons. Having been a long time fan of Andy's site I had tried creating a few cartoons on my own, just for fun. When I read Andy's blog post looking for submissions I thought it would be fun to submit one of the cartoons I had previously created.
Last month Andy posted my cartoon on his web site. You can see all of Andy's great cartoons and enjoy his wonderful humor on his site: http://cartoontester.blogspot.com/
Thanks Andy for your great inspirational humor and encouraging others to send you cartoons! Keep up the great work.
Want to improve your craft? James Bach, Michael Bolton, Anne-Marie Charrett and Huib Schoots are offering individual coaching sessions via Skype.
---
Learn how James uses instant messaging to improve your testing skills.
Read more »
Are You a Member?
We believe great software testing requires Craftsmanship, Science, and Passion.
Learn More »
Looking for something?
Use the form below to search the site:
Still not finding what you're looking for? Drop a comment on a post or contact us so we can take care of it!
Visit our friends!
A few highly recommended friends...
Archives
All entries, chronologically...